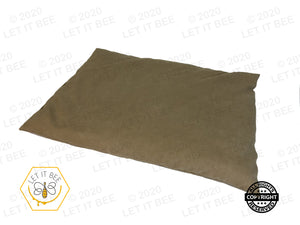 This pillow is to be used in conjunction with the ventilated moisture pillow box. This natural pine wood shavings moisture-wicking pillow is made to keep your bees warm and dry in the cold winter months. These pillows are custom-made and hand sewn to ensure the highest quality.

**Ventilated moisture pillow box sold separately**
Made for both 8-frame and 10-frame equipment. Please choose desired size.

LOCALLY SOURCED. MADE IN WISCONSIN, USA.