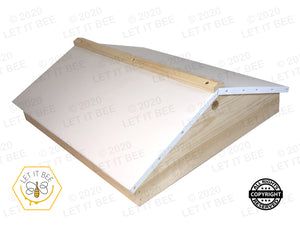 This is the roof of your hive so you want one that will withstand the harshest conditions. The pitched roof helps to prevent buildup of snow, ice, and water on the top of the hive. The top is covered with heavy-duty aluminum which telescopes down over the top of the hive to keep out the elements. This is to be used in conjunction with our Ventilated Gable Inner Cover, but it can also be used with our Ventilated Moisture Pillow Box.
This product is only compatible for 8-frame equipment.
LOCALLY SOURCED. MADE IN WISCONSIN, USA.